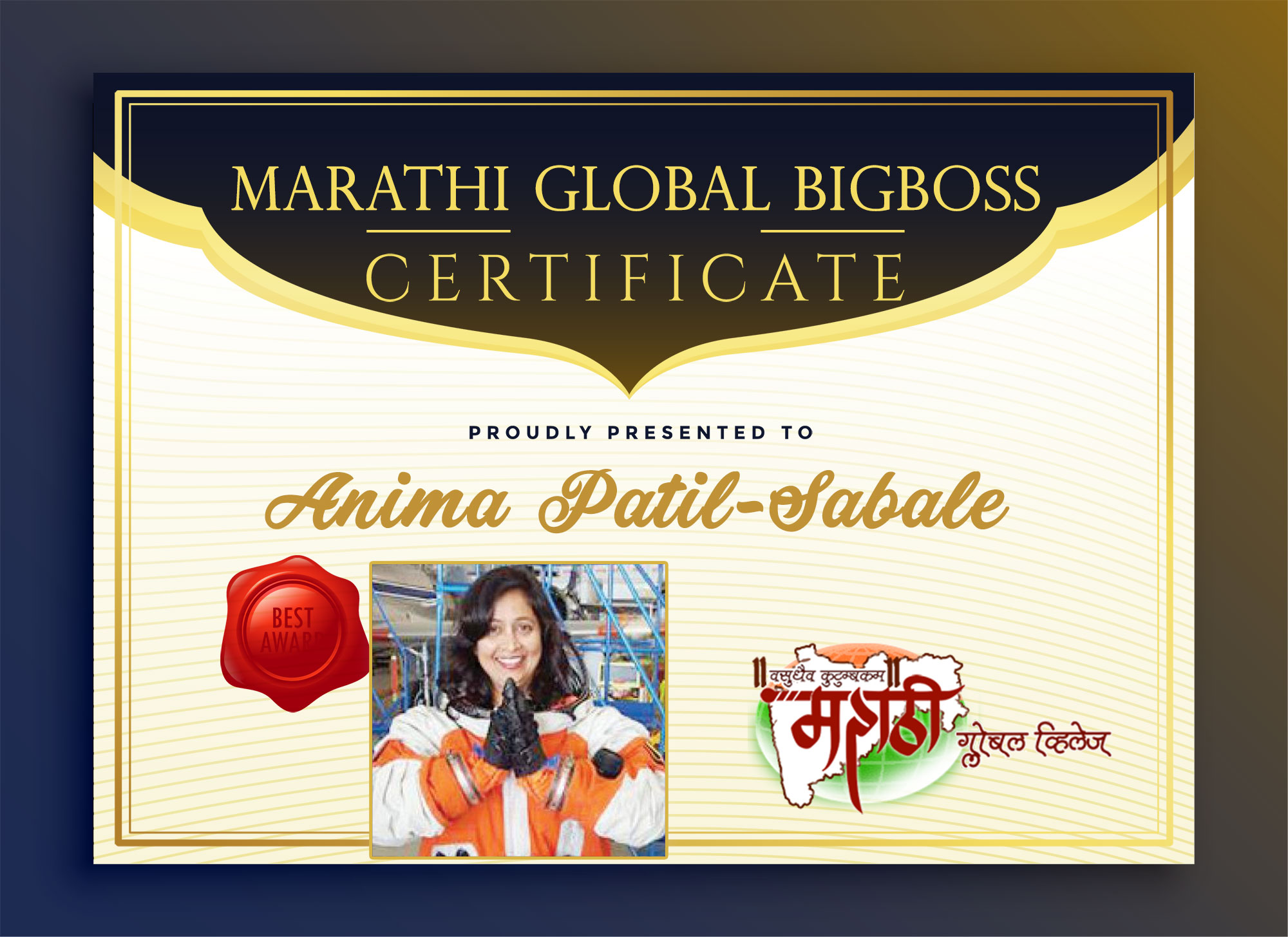 Anima is a Scientist-Astronaut Candidate (Commercial Space Projects), a Software and Aerospace Engineer, have been working for NASA, a pilot, a scuba-diver, NASA Speaker, NASA Girls Mentor, Boy Scout's Assistant Scout Master, STEM advocate, NASA Astronaut Aspirant, Artist, Singer, Dancer, Performer, Model, all this and more.
Anima did MS Aerospace Engineering (San Jose State University), MS Computer Applications & BSC Physics (North Maharashtra University). She completed my schooling at St. Josephs Convent High school, Jalgaon, India.
An astronaut aspirant, is working towards her childhood dream and making the best of the opportunities she is getting this late in life. Anima is passionate about Human Space Exploration, Long Duration Spaceflights & Human Factors involved in Spaceflight.
Prior to the current role, she worked on the Kepler Mission in the Science Operations Center as a Senior Principal Software Engineer; it was great fun being a small contributor to a team that found planets in our galaxy!
She got to be the Commander for HERA VII, a 14 day sim at NASA's Johnson Space Center in June 2015. HERA VII was a 715 day mission condensed into a 14 day simulation to asteroid Geographers. As an analog astronaut, she participated in psychological, medical and cognitive studies. she performed systems maintenance of our 'spacecraft' habitat, worked on science experiments and all things astronauts would work on, on such a long duration mission.
In Spring 2016, She got selected and I trained as a Scientist-Astronaut Candidate for Project PoSSUM – Polar Suborbital Science in the Upper Mesosphere; a project supported by NASA's Flight Opportunities Program. You can read more about it here.
She is a Citizen-Scientist Astronaut Candidate for Project PHEnOM – Physiological, Health, and Environmental Observations in Micro gravity; one of the world's first commercial human spaceflight research programs, training and utilizing citizen scientist-astronauts and mission support specialists to carry out its mission objectives.
She is also a First Tier Support Engineer for another sim called the Hi-SEAS, which is a Mars Analog Mission on the isolated region of Mauna Loa side of Big Island of Hawaii.
She has participated in a Simulated Fluid Loading Study at NASA, am a member of the NASA Ames Speakers Bureau. Here's a link on  Kepler website about some of her talks: http://kepler.nasa.gov/news/keplerinthenews/index.cfm?FuseAction=ShowNews&NewsID=346
REPORT THIS AD
She is a PADI Certified Open Water Scuba Diver, a student pilot, a NASA Girls Mentor, Boy Scouts of America – Assistant Scout Master for boy scouts and a Den Leader for cub scouts, plus a First Lego Robotics League Coach.
She is also an artist: Dancer, Singer, love sketching & painting, she makes impromptu Poetry, and excellent Rangolis. She loves sharing our culture so she has been setting up & hosting cultural booth representing India at NASA's Diversity & Inclusion Event since 2012. She choreograph, teach and participate in group dances in cultural events at work and in our community. She does the same for our youngsters as well. She would never give up my astronaut aspirations for anything else but since She is often asked, if not an astronaut or an engineer, She would be an actor as she loves performing.
While she pursue her childhood dream, she plans on pursuing research in, and contributing towards, space exploration. Sharing my experiences and knowledge with the younger generation is a passion. She loves providing them the guidance that she missed out on growing up.